Howdy, Stranger!
It looks like you're new here. If you want to get involved, click one of these buttons!
What breed is this?
My wife came home yesterday with a new pet chicken, to accompany our other one. But this one is a peculiar-looking chicken. It's feathers are fluffy and pure white, but its skin is a bluey-black. Apparently, its meat and bones are black, too (but there are no plans for me to find this out for real).
I live in China, where this breed is called 乌鸡, wuji, or 'black chicken'. Does anyone have an idea what the English name is?
Here's a picture...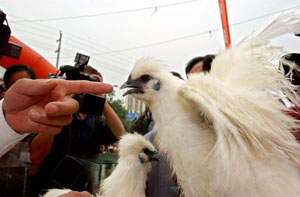 Leave a Comment